Download Torrent File Via Idm
Usually when you download a torrent file, you download the .torrent, a partial file with tracker information in it. These files will only work with a bit torrent client such as uTorrent or Tixati. That's not the only way to download torrent files. You can also use Internet Download Manager (IDM). It needs a couple of extra steps but it is simple to download torrents fast with IDM. Here's how.
Also Read: How to Download Torrent Files Using IDM. After you have uploaded the torrent file you need to click on Download file option just beside the torrent file. Now you will be redirected to the pricing page if you want a free service then just select an option of Go Free.
Despite what the media and certain industry lobbyists would have you believe, torrents are not all illegal. Many businesses transfer larger files using the bit torrent client and there are as many legitimate reasons for using the protocol as there are not-so legitimate.
Download torrents with IDM
There are a couple of ways you can download torrents with Internet Download Manager. The first requires that you find the .torrent file, upload it to the ZbigZ website and then download the file. The second is to use cloud storage at Bitport.
Download torrents using ZbigZ
If you use ZbigZ, you will need to sign up for a free or premium account first. Then:
Click Upload and select the .torrent file you want to use. If you use magnet links instead, use that.
Click Go and wait for the file to be uploaded and processed. This can take a few minutes.
Click Download once the button appears. IDM will automatically pick up the download from the browser and manage it for you.
That's all there is to it. IDM takes the download and stores the file where you tell it to. It uses its network optimization tricks to accelerate the download and everything works as it should.
Download torrents using Bitport
Bitport is very similar to ZbigZ but it also encrypts the download to keep it away from prying eyes. Opt for a premium membership and the site will scan all files for viruses too. Where Bitport differs is that it stores the torrent file in the cloud rather than downloading it directly. You can then either stream the file or download it as you see fit.
Select the .torrent file or magnet link you want to use and paste it into Bitport.
Wait for the site to process the file.
Store it within your online Bitport storage or download using IDM.
Download torrents using Bitport is as easy as using ZbigZ. Copy the file onto the page and the site will do the rest. IDM will manage the download or you can stream the file live from your storage. It's entirely up to you!
These are just two of many websites that allow you to download torrents with IDM. They both offer free accounts for you to try and premium accounts for if you decide one is right for you.
Just remember that regardless of whether the file is legal or not, use a VPN to download from the internet and scan all files with both a virus and a malware scanner before opening them. You can never be too careful!
So, you are in college or in a firm where you operate behind a proxy server. The company and colleges have placed many restrictions on many sites and you can not download torrent files .I was going through the same problem when I entered into my college. In my first year, I made use of the following sites. I used to download almost all of my stuff through torrents, simply because they are easy to find and quick to download. Now I use Tor but sometimes I still make use of these sites. So, I would like to share with you some of the methods to download torrents online.
1.Boxopus
What is Boxopus?
Boxopus is a service which downloads your torrents without any software and stores it in the cloud. Also, Boxopus is a nice monster that you see in the logo.
How does Boxopus work?
Simple. You point Boxopus what torrent you want to download. After Boxopus downloads the files it will notify you by email and you can get it from here.
How much does the service cost?
The basic account is absolutely free. You can download a torrent file up to 512 MB in size with unlimited speed with a free account. Also, you can get much more with PRO account (more traffic, more features, more anonymity, higher speed).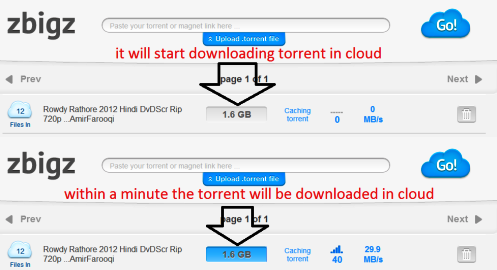 ByteBX is a cloud storage service which lets you store files from the computer and also upload torrent files in its server. You can download the particular torrent after it is uploaded in its server. It has a free account which lets you store torrent files up to 2.5 GB. But the download speed comes with a limitation of 200KB/s.
3.BT Cloud
BTCloud is a cloud storage integrated with the global BitTorrent network. It comes with a free account which lets you upload 1 GB of torrent files and the download speed is unlimited.
4.ZbigZ
ZbigZ used to provide unlimited download speed two year back, but it has changed its speed restrictions to 150 KB/s. The main advantage of this site over others is you don't need to sign up to download if you want to download for free. Two years back there was a hack which lets you download torrent using its premium account. I don't know if it works now, and you can search it online. I would write an article on it if somebody ask for it. So leave a comment below.
Conclusion – My favorite has always been Boxopus, simply because it provides unlimited download speed. Although there is a size restriction but I mainly used it for downloading torrent low in size. I don't have to leave my browser for downloading any torrent. Simply add a magnetic link and wait for the torrent to upload. Surf the internet till it is uploaded. Download it and enjoy. Simple.
Disclaimer: fossBytes does not advise anyone to download or distribute copyrighted material on the internet illegally.
Download Torrent File Via Idm Full
Now Watch:
Comments are closed.